Improved Payment Options
Carrick Masters Swimming Club - 23 Jun 2021
The club is improving the way you pay for swimming:

Option 1 – pay monthly in advance to reserve your space. Pay £24 (£30 Saltash) on 25th of every month (first payment due 25th June 2021). You will receive a request for payment each month through Spond.
Option 2 – pay as you go at £6 (£7.50 Saltash) per session. You can book and pay for your swim up to one hour before the start of the session. Availability will be subject to restricted (Covid 19) pool capacity.
Both options require pre-registration on the Spond App.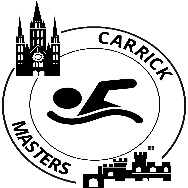 Follow us on
Are you on the lookout for an all-in-one membership system?
SportMembers makes life easier for everyone in the club, by giving you:
Easy email and chat communication across teams and departments
Keep all member data on a single platform, which can also be accessed via our mobile app
Get an overview of attendance statistics, membership history and membership payments
Charge membership subscriptions automatically, and be free of long lists of missing payments
Create club