OW Training with Rob (Coach) - Starts 11th Sept
Carrick Masters Swimming Club - 26 Aug 2021
There's still time to sign-up to a 5 week course of open water training with Rob (read his bio on our coaches page).
The training will be tailored to suit the swimmers goals and will be risk assessed each time. Please bring a swim float if you would like to join.
Register on Spond here:
https://club.spond.com/landing/courses/carrickmswim/21DD18A2F39F4840A8ACFC1B40EE38BF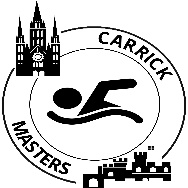 Follow us on
Are you on the lookout for an all-in-one membership system?
SportMembers makes life easier for everyone in the club, by giving you:
Easy email and chat communication across teams and departments
Keep all member data on a single platform, which can also be accessed via our mobile app
Get an overview of attendance statistics, membership history and membership payments
Charge membership subscriptions automatically, and be free of long lists of missing payments
Create club