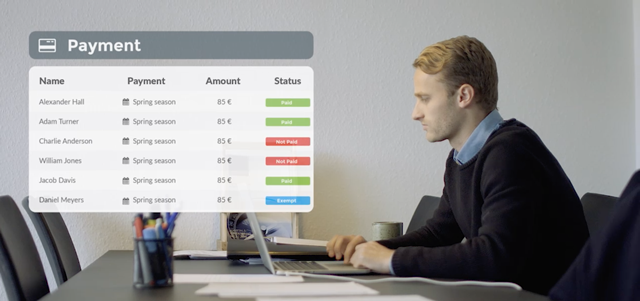 We all know the struggle of getting members to pay their membership fees on time which can turn any treasurer's job into a pure nightmare. However, this is not the case with SportMember where fee collection is simple, quick and definitely not demanding in any way. The system has been developed with the goal of making all aspects of team and club management as easy as possible. We have put a lot of focus on automating the payment process.
In the club administrator you can get a detailed look at all the members in the member database of your club and teams separately. This member overview will also be an easy way to see the payment status of everybody. This will give your treasurer a fantastic and easy tool to administrate the payment of membership fees.
Online payment for all members
The benefits are not just for the club's administrators. As a member of a club you can wave goodbye to postal payments and further 'late' fees in your post-box. Instead, you will receive the bills online and you will be able to pay your bill online within a few minutes. First, you will receive an email notifying you about the payment. Hereafter, the payment itself can be paid in no time using the PSP (payment service provider) SEPA. Next time a membership fee is payable you can avoid moving a finger – if you simply ask SportMember to save your account details. It has never been easier to make a payment. Our online payment system makes it fast and reliable.
All payments are registered immediately in SportMember and members will automatically receive an email with a receipt. Previous payments are attached to your profile. That gives you a detailed overview of time periods and payment amounts of previous seasons.
Annual, six-monthly, monthly - Payment periods as you please
In the club, you can design the payment set-up exactly as you please – if you for example wish to receive payments monthly, quarterly or yearly – and if you get new members in the middle of a season, you can adjust how much you charge them.
Here's how it works: You set up the respective payments. You send them out to your members by the single click of a button. After that, SportMember will take care of the rest of the treasurer's job using the fantastic PSP, SEPA. The system will automatically send reminders about outstanding payments and you will save a lot of resources. Resources that you normally spent on informing your members about payments and catching up on outstanding membership payments.
No payment, no participation
Here at SportMember we understand that you don't want to kick a bunch of members out of the club even though they don't pay the membership fees on time despite repeating reminders. We created a way that can solve this problem. In SportMember you are able to "exclude" these members from receiving notifications of new team activities and thereby from participating in the community until they pay their outstanding membership fees.
This, however, doesn't mean that they are deleted from the team. But it encourages them to pay the outstanding unless they are happy staying side-lined while their team mates are having fun on the pitch. Simply and effectively ensure a healthy business culture in the club where all members that want to have fun and participate will also pay in time.