The life quality of lonely men is improved through sport
Grown men are always encouraged to be active due to physical reasons, but especially team based sports can contribute to a happier and social life.

September 21st, 2017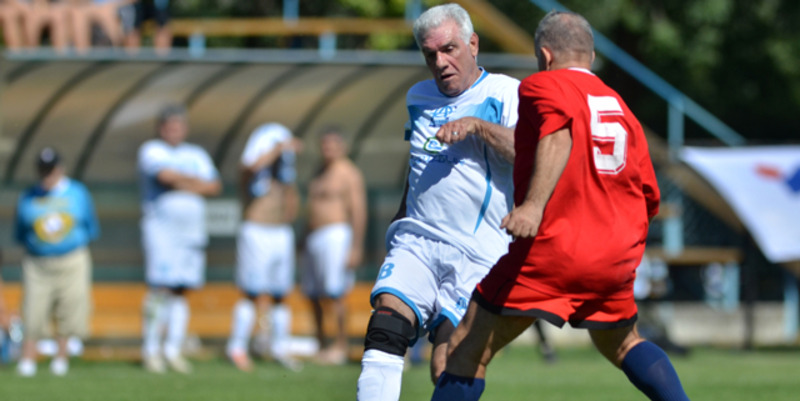 Many Danes grow up with sport being their best friend. Ever since their mom or dad brought to the local football field, sports hall, or other sporting facility. But with age, many people lose touch with sport for various reasons, and for the remaining part of their life many feel lonely and have few to socialise with.

Research shows, that this affects and increasing amount of men and women. This the Centre for team-sport and health of Copenhagen University, set out to change in 2015.

- We expect that sports with balls and a little competition incorporated will appeal to a greater extent to men, than the normal fitness or gymnastic practice in the various centres, the project leader and professor Gertrud Pfister explains according to DR.

She referred to a project, that on top of improving the physical health of people, also could generate more happiness in the lives of older men. It was organised with Copenhagen's council as a kind of basketball with softer balls, smaller pitches and without any body contact, on selected centre's around the country. Perfect conditions for the older people.

- We want to improve physiological health and quality of life through bonding with others during practice. There is always someone that tells a joke, that makes everyone laugh, when you train together as a team. If one is lonely and doesn't have contact with others, one cannot enjoy such rewards, because when was the last time anyone has laughed alone, Pfister asks.

In the Activity House in Noerebro, that was involved in the project, the emphasis was focussed on the team sports both sounded more attractive and less taboo for men, than a gym or fitness centre. This way, men were encouraged to come and meet new people.

Not just for pensioners
Even for the men that haven't yet reached the pension age, it is important to get involved in team sports.

Even though going for a jog for a middle-aged man can easily be fit into a busy schedule, he risks missing out on fundamental social connections.

The need for social connection is higher amongst older men, because these are statistically lonelier
Furthermore, the need for social connection is higher amongst older men, because these are statistically lonelier, especially if their wives have passed away. When Thomas Rostgaard Andersen of Copenhagen University, experiments with various activities with the older part of the population, the results are much more positive.

- Team-based sports generate interactivity and cohesion. Our experience with the experiments that we carry out on team-based sports, is that the participants continue to play together years after the study have been carried out. Oppositely, their control group (63-75 year olds), that exercise on a treadmill, stop participating, when the study finished, Thomas Rostgaard Andersen explains to Politiken.

In the above-mentioned control group of men aged between 63 and 75, the exercise average was only increased by 15% while the functional capacity increased by 30%. As a bonus, they had improved their blood sugar levels. But as all other lifestyle changes, it's the wish for change in the long term, that makes a difference.

- The biggest obstacle for exercise is getting through the door. If it's something, that one is excited about, it's something different. When the others are waiting for you, you're more likely to participate, Rostgaard Andersen concludes.

Floorball is the new black
One of the most growing sports in Denmark these days, is floorball, which also has gained great popularity amongst the older generations. A trend that the various sports clubs are also incredibly excited about.
- It changes the atmosphere in the club and in the club house to have a senior. It relaxes the environment, that's usually driven by younger players. The wives often, on top of that, clean a little when they come to visit the club, the head of Copenhagen Floorball Club, Finn Fjorder commented.
Spreading the interest and knowledge of other team sports than just football, was the entire purpose with the creation of the Centre of team sport and health in 2012. 

TIP: Did you now we offer a free line up builder?

For floorball, it meant that seniors ever since have played on a smaller field than normal, just like the case was with basketball. More touches and a higher pulse than when going for a jog, results in improved functionality and less physical strain due to the increased muscle strength, Jens Bangsbo believes.

He and his team has discovered, that even older men that never really have exercised, now have become crazed with it.

At SportMember we highly recommend all sports interested readers, that are missing fun and fellowship, to go out and become a part of a sporting community. If you already have a team, but are missing structure and coordination of meeting times and registration, we offer a free tool available for your team. The only thing that it requires, is for you to click on "Create profile" on this page.